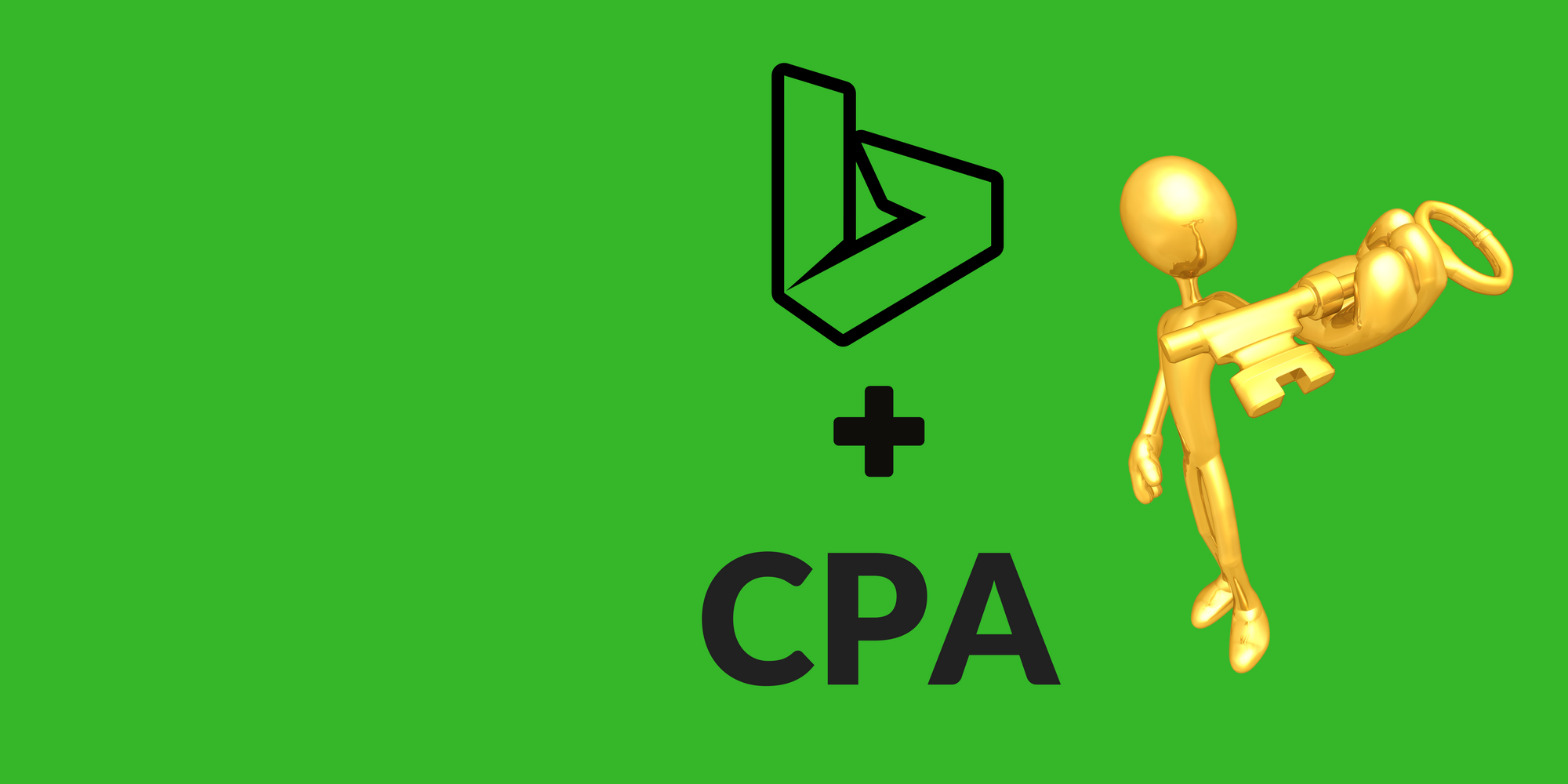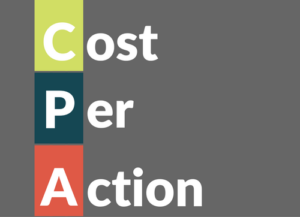 I've been experimenting a lot with affiliate marketing. There's various forms of affiliate marketing as I detail in my blog post Five Advertising Models Every Affiliate Marketer Should Know. Out of those five models, my experience with creating income through Cost Per Action (also known as CPA marketing) offers, up to this point, has not been to good.
That said, I'm sure it will improve. So even though I have not had great success, I do know why and that is what I'm going to let you in on. You might be thinking, if I know what I'm doing wrong then I should be really successful, right? Well not exactly and that's what I'm going to elaborate on in this post. You'll find out why CPA marketing can be tricky.
What is CPA Marketing?
First, what is CPA marketing, anyway? CPA stands for Cost Per Action or Cost Per Acquisition. It's a popular Internet marketing technique many companies use. Essentially, with CPA marketing what you're doing is obtaining leads for companies. That's what they pay you for. Even though nothing was purchased, what the company did receive was a lead. They now have someone they can follow up with. Usually that person is now part of an email list or they have a phone number. So now that person will receive offers and updates which can lead to sales. In marketing, we would say the person is now in the funnel. From what I'm learning, in the world of Internet Marketing, having an email list is a very valuable asset.
How I Promoted CPA Offers
There's various ways people use to promote CPA offers. The way that I have experimented with involved picking an offer that I liked over at Maxbounty and promoting the CPA offer via Bing Ads. The reason for Bing Ads as opposed to Google Ads is, put simply, Bing Ads cost less per click. So here's how it works in a nutshell.
I would create a Bing Ads campaign.
Within that campaign, I would create different ads. Each one is worded differently. The Bing Ad would send the person to a landing page (or sometimes directly to the offer page) that I created.
The landing page would then send them to the CPA offer page where they would put in some information such as Name, email, Phone number, ZIP code, etc… Some are as simple as just inputting an email address.
If they completed the action on the offer page then I received a commission. Seems simple enough, right?
Check out the diagram I created which shows, in detail, how it may work. Now the diagram is a little more complicated than what I just explained since I did not explain the various ways you can go about it.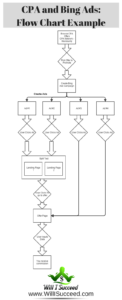 Share this Image On Your Site
Please include attribution to WillISucceed.com with this graphic.
Why Did I Not Do To Good?
A lot of people claim to do really good at CPA marketing and make a lot of money. So why did I not do too good? Well here's the deal. I learn best by example. So I'll show you, through example, why I did not do good. Let's say I pick an offer from the MaxBounty network to promote. Furthermore, let's say I choose one of the many survey-taking offers they give you the ability to promote. Now let's say the offer pays out $2.40 when somebody signs up, for free, at the website.
So some fictional guy named Joe and I are promoting this offer. Let's also say that we both promote the offer through Bing Ads. I spend $100 and Joe spends $100 with Bing Ads. Let's say we both also receive approximately the same amount of clicks to the survey-taking offer we have set up.
Here's What Joe Did Better Than Me
Now here's the difference between us. Joe obtains a lot more sign ups than I do. Thus, Joe earns more commissions. Let's say, with Joe's campaign, for every five clicks somebody fills out the form earning Joe commissions. For me, one in every 15 people fill out the form. So per click, he had more people sign up than I did. This plays into what we call our earnings per click (EPC). His EPC is a lot higher than mine.
Why is Joe's EPC higher than mine? That's the important question. Read on to find out why.
Well, this is what I have come to learn so far. The details are always a secret. It's Joe's secret formula for success. Now what I can tell you about Joe's secret formula is that it consists of a few different ingredients. But, primarily, it consists of the following:
A Winning Bing Ad (with the right keywords targeted to the right demographic)
A Landing Page That Converts or sending people directly to the offer
Getting those two things just right makes for Joe's secret formula. Let's go over these two ingredients in a little more detail.
Create A Converting Bing Ad
First, let's go over the Bing ad. When it comes to creating a winning ad, there are a lot of variables that come into play. You're going to have to know how to find and utilize keywords. This includes doing keyword research in order to figure out which keywords would work best for the offer you're trying to promote. Keywords are basically the words that somebody types into the Bing search engine that will bring up your Bing Ad.
This is where Keyword Planner and Campaign Planner, which are two tools built-into Bing Ads, come into play. Another great tool is SEMRush. The difference between free tools like Keyword Planner and Campaign planner and SEMRush is that SEMRush does a better job of analyzing what your competition is doing. Where their backlinks are coming from, all the keywords they're ranking for, etc… This is something the free tools, alone will not do.
Aside from keywords, some offers might do better targeting certain countries. Maybe the offer does better during certain hours of the day. So you may limit the times it runs. Are you going to allow content network ad distribution? The list of considerations goes on and on. You should now be starting to see why it's difficult to get down the right way of setting up a winning Bing Ad.
But that's only half the battle. Onto the next part
Where To Send Them: The Landing Page or the Offer
The next part is the landing page. So picture this. The person sees your Bing Ad and clicks on it. Now where does it take the person? The answer is that it can take them to one of two places.
Directly to the CPA offer page
To a landing page that you created.
The first option is pretty self-explanatory. When someone clicks on your Bing Ad they are taken directly to the offer where they can take the action. If they do that then you receive the commission.
The other option is to send them to a landing page that you create. So let's get into the landing page.
Your landing page has to have all the right psychological triggers in it that get people excited to want to click on the offer and enter in their information which creates you that commission. To make this happen, it's highly suggested you invest in software that easily lets you create good looking landing pages. There's a few of them out there. The one that I suggest is Beaver Builder. After looking into it I decided to pick Beaver Builder because it is easy to use and you can make very nice landing pages with it.
As I mentioned, the other option is to bypass building a landing page and send people directly to the offer. From what I learned, you'll want to experiment with both to see what converts better.
Monitor What Keywords are Converting and Adjust
So after you now have your ads and landing page in place it's time to sit back and monitor. This is where a tool like ClickMagick comes in really handy to you. The way it's going to come in handy is that it's going to help you understand what keywords are and are not converting. This is vital information that you can only get with link tracking software. This data will help you to adjust your Bing Ads.
Once you know what keywords are converting then you may want to increase your bid on those winning keywords and take away from the ones that are not working. If you're split testing landing pages and one is converting while the other isn't then you will want to get rid of the one that is not working.
The Winning Formula
The people who claim to be doing really well at CPA marketing like to keep the details of these two things secret. This makes sense. Why would they want to tell you exactly what's working for them? If they did that then other people would steal their traffic. At least that's the way I look at it. If it's working for them then they are going to want to scale up, go bigger, and drive more traffic. So the people who do really well at CPA marketing know how to create this secret recipe for success. They know how to best mix these ingredients together that lead to conversions.
My Experience With CPA Marketing
So for someone who can figure out the magic formula there is some amazing profit potential. Imagine investing $100 and getting back $200 or more. There are people who claim to make a few hundred and even a few thousand per day from CPA and affiliate marketing. For me personally, I didn't do too well at it. The way I look at it, Bing gave me $100 in free Ad words. I spent that $100 and made about $80. I spent another $100 and only made about $30. So the way I see it, I ended up losing on the campaigns I created. At the end of the day, what I learned is that my recipe wasn't good. It wasn't a winning recipe.
Get Some Training
Since there is huge profit potential in CPA marketing people are willing to pay good money to learn the art. I spent $247 on a CPA marketing course. I learned a lot of detail about the two ingredients that I described above. Of course, what they don't tell you is exactly what they did. They didn't show the exact landing pages they used or the exact keywords that were used. In this course I took, they taught me as if they were starting fresh with a new offer, new Bing Ad, and new landing page. Don't get me wrong, the course was valuable (although I feel like I overpaid). I learned a lot. But, of course, they're not going to give the keys to the kingdom, per say. They're not going to give you the secret recipe that gave them all their success. That said, the secret recipe is going to vary as every offer is different. To learn more, step-by-step, I suggest the course Home Business: The Complete CPA Marketing Course. The price for the course is very low for the amount of value you get from it.
CPA marketing is part of affiliate marketing. Because of that I suggest also checking out my post on affiliate marketing startup costs if you want to get serious about picking a niche and making CPA part of a long term affiliate marketing strategy.
Pick a CPA Marketing Network
Before you get started, you're going to want to pick a CPA marketing network. These are the companies that work with the merchants to supply you with the various CPA offers you can promote. The one I have experience with is Max Bounty. There are other ones out there but Max Bounty has a great reputation in the CPA industry. Something I find very interesting about Max Bounty, which I like, is that when you sign up and want to join they actually require a phone call interview with you. So your affiliate manager will actually call you to talk about your strategy. He/she will probably want to know what it is you plan on doing and how you plan on promoting offers. It helps if you let him/her know that you're taking a course on CPA marketing. So think about taking the course I suggested above. For me, the phone interview made me feel like I was really part of the team.
I'm Not Giving Up on CPA Marketing
I do plan on doing more CPA marketing. Experimentation is key and experimenting I will do. So look for an update on one of my end-of-month income reports where I'll show the results. Actually, I might just update this post. Not sure yet. But I will definitely let you know how the results go.
I haven't figured out the secret recipe yet but I'm not going to give up either. That said, when you're promoting CPA offers the way I described it's going to cost you money. You have to pay to play. If you're not making any money from your investment you're losing money. So right now I just don't have the means to be spending money on campaigns to promote CPA offers. It's kind of like gambling at this point. Aside from that, I would prefer most of my traffic to come organically. But that's another topic for a different time.
Lots of Money To Be Made In Coaching – But Be Careful
Now people who claim to do really well at CPA marketing (and they should be able to prove it) usually offer coaching services and for good reason. For example, if I'm making a really good profit margin. Let's say for every $100 I invest in campaigns to promote CPA offers I end up making around $300. If I'm consistently doing well and I'm willing to show you how I do it (which includes giving you the secret recipe to a couple offers I do really good at) then you might be willing to pay me some pretty good money for me to coach you. That's why coaches that coach people in the art of CPA marketing can charge thousands of dollars, easily. That said, I caution you to be careful. There's a lot of deceit in the world of selling Internet marketing training. I posted an article on Medium on the topic of deceit in Internet marketing.
Conclusion
But anyways, I want to hear from you. In the comments section below, if you have experience with CPA marketing and Bing Ads I want to hear about it. Let me know how it went for you. Be honest. That's the only thing I ask.