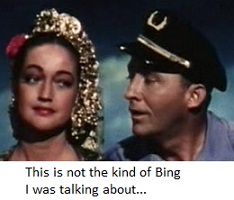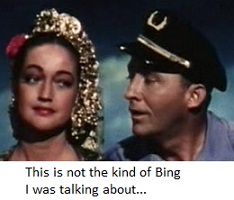 Here at Thomas Creek Concepts our goal is to profitably manage our clients Pay Per Click advertising campaigns, and help them grow their businesses over time. Although we are AdWords specialists, the return from Bing Ads advertising continues to improve. No longer is Bing advertising a luxury for those larger companies with international multi-media marketing campaigns. So how do you start advertising with Bing? First of all, you have to create a Bing Ads account.
The purpose of this article is to show how to create a Bing Ads account, for existing clients looking to expand their online advertising. Rather than add the additional steps of creating your own campaigns, adgroups, entering in your keyword, targeting, ad copy, etc., etc., etc. – If we are managing the account, we'll take care of all that for you! All we need you to do is to create the account, and enter your billing information. Follow these easy illustrated steps and we'll have you advertising on Bing networks in no time.
1. Create a Microsoft account:
You can create your Microsoft account here. Your Microsoft account is your one sign in for all your Microsoft products including, MSN, Xbox Live, and any Bing or Bing ads accounts. If you do not have a Microsoft account yet, but you do have a main business email (such as Gmail for your Google accounts), you can use that email for your Microsoft account. You do NOT have to use a Microsoft email provider.
2. Sign up for Bing ads, and create a Bing Ads account:
Once you have created your Microsoft account, now you can sign up for Bing Ads. Just click the sign up button: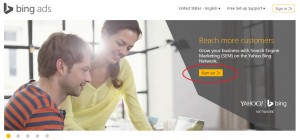 Then, click sign in with an existing Microsoft account: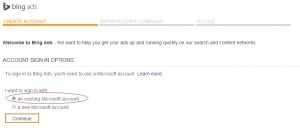 3. Enter your account information: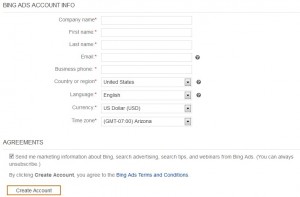 4. STOP! Do NOT create your first campaign – Just Enter your billing information:
Note: When choosing your billing options, make sure you select post-pay. If you select the pre-pay option, you will not be able to link your account to a managers API, and you can NOT change your payment options after you setup the…