Intel's highly-anticipated Arc GPU is expected to give gamers a much-needed third option to AMD and Nvidia when released. Because we know you do more reading about gaming GPUs than actually using them these days, we've compiled everything we've learned about Intel's first entry into high-end discrete graphics.
We'll keep this story updated with more information as we get closer to the launch of Arc.
Why is it called Intel Arc?
Until this week, Intel's discrete graphics card has been touted as Xe-HPG, for High Performance Gaming. Although the Xe-HPG microarchitecture will be somewhere on the box, the GPU now takes on the far more memorable 'Arc' branding, which, we're told, comes from the "story arcs" in games. We just know it's easier to remember than Xe-HPG.
Will it support hardware ray tracing?
When Intel first surfaced its intentions to compete with Nvidia and AMD, the road to making ray tracing a desirable feature was just getting started. Today, a lack of ray tracing support is seen as a weakness.
Intel's Alchemist Arc will have hardware ray tracing support. Each "slice" will feature a ray tracing unit of unknown performance, which will enable key features for ray traversal, bounding box intersection, and triangle intersection. In short, Arc will have hardware ray tracing out of the gate. The first Arc will also feature mesh shading tier 2 and pixel sampling, and be DirectX 12 Ultimate-compatible.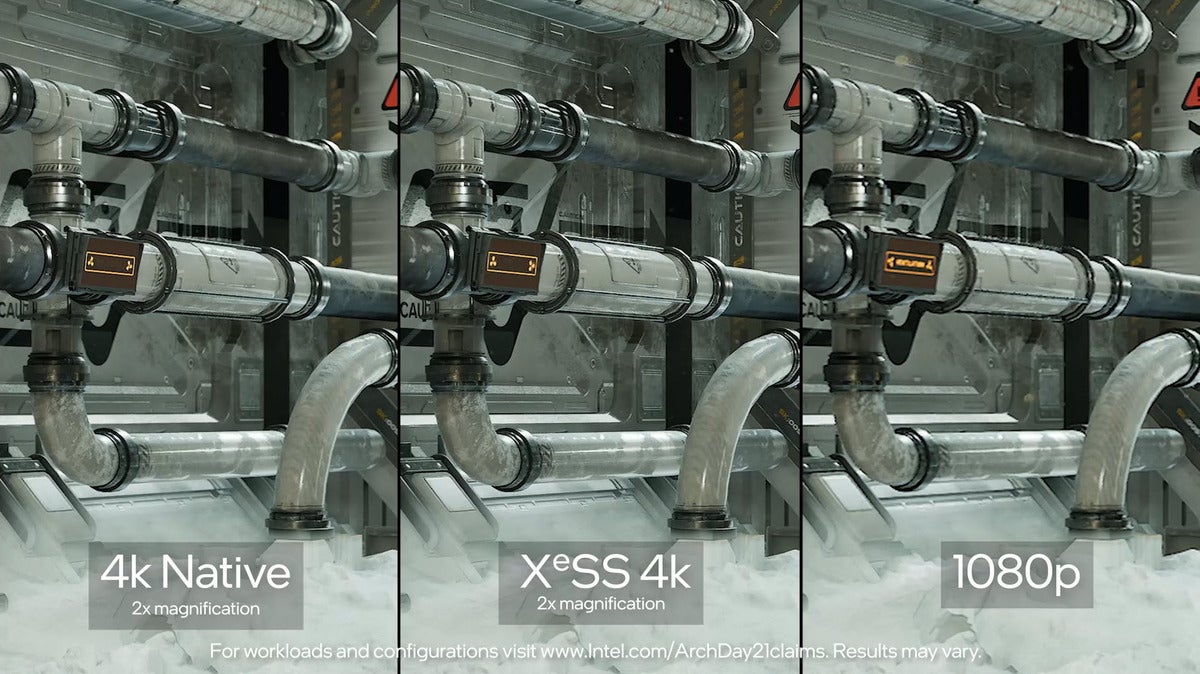 Intel
Intel's XeSS will compete with Nvidia's DLSS 2.0.
How will Arc deal with Nvidia's DLSS?
Gamers and the media initially viewed advanced ray tracing features with skepticism and fear of slowdowns. Nvidia's AI-based DLSS 2.0 turned the tide of opinion by allowing impressive 4K resolution gaming based on 1080p upscaling.
With XeSS, Intel will use machine learning and temporal feedback techniques to let Arc GPUs render a game at 1080p before increasing the resolution to 4K. Intel says it's possible to run an Unreal Engine demo with "no visible quality loss" using XeSS 4K vs. 4K native, while doubling frame rates. From what we've seen, it looks pretty impressive. But you won't believe it until you see it yourself, so we've uploaded it to YouTube for you.
Does XeSS work only on Intel's Arc GPU?
One drag on Nvidia's DLSS 2.0 is you need Nvidia hardware to run it. Intel, seemingly having nothing to lose, said XeSS will work on any hardware that supports DP4A or INT8 instructions, which most modern Nvidia and AMD GPUs do. Intel said it will let XeSS reach a wider audience, although it won't be quite as good nor as fast on other platforms. Such a…